This week, Jo has been talking to Nicky Stevenson, a Devon-based artist whose mixed media work is inspired by the sea and the natural world.
---
J M-L How did we meet?
NS We met after my lovely artist friend Marc Heaton introduced us to one another. I came to The Mason-Laurence Gallery to show you my work and was very excited to chat to you and see the gallery.
J M-L Yes, of course. I have been representing Marc now for three years and as soon as he showed me your work on line, it was a WOW moment, I couldn't wait to meet you! What brought you to Devon?
NS My parents moved to Devon in 1978, so I have spent a lot of time here.
As my daughters approached secondary school age, I felt they needed stability and a place to call home and develop roots. We had moved all over the place with their Dad's job, so Devon, with family around seemed the right place to be. The environment was really inspiring and I could see lots of opportunity for me too.
J M-L How has living in Devon changed or developed your style?
NS I have always painted and drawn fish, but seeing the seas in winter has made the waves far more, well, wavy, troubled even at times and larger. The vast spaces too have had an influence as have the fabulous colours and lighting states.
JM-L Yes, your work has a terrific vibrancy, it's a kind of energy.  It's good to know it is fuelled by Devon! How long do you spend creating in a typical day?
NS This depends on whether or not I have to be in my gallery.
JM-L Ah yes, a fellow gallery owner, it can take over our lives I know but we love it!
NS If I have a piece on the easel, I will come home and work on it until quite late. But the way I love to work is to start a piece and just work and work until I can't see straight anymore. Just going with it and enjoying it. Everything else fades away and the process is one that makes me very happy. So, on those days, I can work for up to 14 hours.
J M-L What inspires you?
NS I did a Ceramics degree, so always have a 3D head. So form is really inspiring. I love being able to disrupt a flat piece of paper and make it look 3D or quilted.
JM-L Yes, I find your work has a luxurious fabric-like look and feel, incredible!
NS Thanks. I look at different cultures and their art and artefacts too. Sometimes I find inspiration in ancient embroidery, a piece of silverware, decoration on a piece of ceramic. I collect imagery and sketch really rough little pictures of things that might be useful later on.
All of my work is inspired by everyday life, things that have happened or I have heard and I just see imagery in my head that I have to make. The work is like a painted/drawn diary.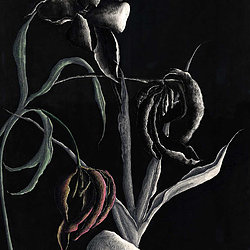 JM-L Who inspires you?
NS In the art world, Francis Bacon for his fluidity, shock power, colour and scale. David Hockney for his treatment of water and colour. All of the impressionists. William Morris for his colour, form and vision and all Art Nouveau. Emanuel Cooper, a ceramicist, who was my lecturer and told me the last thing you should ever ask yourself about anything is "do I like it?" as you can miss so much if you dismiss stuff.  A designer called Peter Minshal, known as the "Masman", whose costume designs and vision for Trinidad Carnival are awesome.
Theatre has inspired me too. I worked in that world for many years. It is the colour, the lighting and that you make pictures within a proscenium arch to help tell stories.
JM-L Tell me why you like to work in your particular media.
NS I work in mixed media. I love the inky stuff I use because the colours are so vibrant and I can make it look 3D. But pastels and graphite pencil are gorgeous. I use Unison pastels that are highly pigmented and stay on the paper. I draw on watercolour paper and force the pastel into its' grain.
I can make really 3D forms with them and love the fact that I use my fingers to mould the pastels on the paper. It is very messy, I love that and it is like sculpting on the paper. So I can sculpt even with no clay. I can also work large with pastels and graphite pencil.
JM-L Tell me about your subject matter.
NS I have painted and drawn fish for years and latterly have a series of bird and flower drawings. The intention is to draw more and to use different subject matter such as seahorses, more flowers, more birds.
JM-L Why does this particularly appeal to you?
NS I love the shapes that fish can make. I love seahorse tails and the square shapes on their bodies. Birds can be made to look like they are thinking lots of different things and flower shapes are just beautiful and you can make them sad or happy. When I draw any of my pictures, the actual subject matter is almost irrelevant as they all become a feeling or about something that has happened. They are all human really.
J M-L Where do you go to think?
NS If I really need to think I go to Elberry Cove near Broadsands. It is beautiful and has special memories for me. If I am entering a time when I know I have real time to work, I listen to Mozart's Requiem or Rachmaninov. The seriousness of the music makes me focus.
J M-L Do you see yourself living in Devon forever? 
NS Interesting question. I am truly not sure if I will stay in Devon forever. The decision will come at some point, not sure when.
JM-L Tell me something about yourself that has nothing to do with art.
NS I used to work as a cabaret singer at Hillhead Holiday Camp near Kingswear. This was back in 1980/81. I could do a massively emotional 'One Day at a Time' by Lena Martell that had all the women in the audience in pieces as they looked at their husbands and thought "Yep, that is what it's like. One day at a time, sweet Jesus".
JM-L Well I did ask! Fabulous!